Desktop air suspension vibration isolator

AVT series

Advent of new AVT Series VISOLATORs.

There are desktop vibration absorption boards featuring advanced air suspension type vibration isolators. All vibration isolation functions are incorporated in a compactly designed body. Sixteen models, diversified in characteristic, are available. The designs are sophisticated considering operation conditions sufficiently. The high-performance AVT Series, incorporating stage-of the-art technology, will fulfill all your needs. We are confident in recommending the AVT Series for small-medium-scale precision machines and those for machining minute parts. The AVT Series assures their maximum potentials by isolating them from vibration.
Business Fields
For Microscopy
For Measurement
Features
Automatic leveler incorporated S-type
Automatic levelers are incorporated in the base body.
They automatically keep the surface table level, even when the load distribution on the spring system is changed due to a replaced or repositioned loading device.
The automatic levelers are indispensable for automatic levelers measuring and machining devices which are continuously accompanied by changes in load distribution.
Manual leveling N-type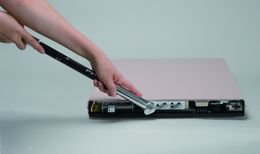 The N-type uses an attached hand pump to supply air for leveling.
The well-designed adjusting inlet requires no experience for initial leveling.
Once it is set, you need not supply air for 1 or 2 weeks.
We recommend this type if no air source is available in your installation room or the setting location is likely to be changed frequently.
One-touch clamper provided C-type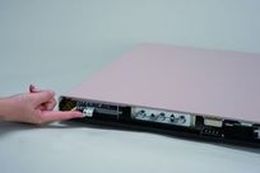 A clump mechanism can be added to the S and N-mechanism types. Using a lever, you can fix the surface table when you replace a specimen, a lens, and so for the with another.
Note
When weight and the center of gravity position of the installing thing change extremely, we will recommend S type.
The clamping mechanism cannot be used for transportation.
If rigidity of top plate is needed, or using optical equipment, high performance AET series is recommended.
As for the equipment with high extreme offset load and center of gravity position, a normal function might not be obtained.
If S type is selected, air source must be prepared by user. The air pressure is necessary for 0.35MPa or more. (Air compressor is available as an option.)
The desk or stand which is put visolator on should be rigidity and strong.
Please consult about a material change or an additional work, before it orders.
Specifications

Model
AVT-0405
AVT-0506
AVT-0605
AVT-0806
Natural frequency
2.5-2.7Hz
Vibration isolation method
Special diaphragm air spring
Damping method
Air damping by orifices
Leveling method
S type : Automatic leveler keeps the surface table level automatically.
N type : Hand operated with an attached hand pump.
Load weight (kg)
55
60
60
70
Top plate dimensions (mm)
430x530
530x600
600x530
800x600
Dimensions (mm)
430x548x60
530x618x60
600x548x60
800x618x60
Weight (kg)
18
23
23
32
Standard accessories
S type : urethane tube φ6x3m,piping joint (PT1/4 male threads)x1.
N type : hand pump, screw driver for adjustment of air supply and exhaust valve, height gage.
Product Inquiry
Complete the form below and press the submit button.*We will respond via email as soon as possible.