Cast iron top air suspension vibration isolator

AC series

Custom-designed visolator with cast iron top

The cast iron top with high side accuracy by which the machining was given after it deliberately heat-treats it is adopted. It can be produced even with complex shape of cutting, penetration holes and lacks, etc.
The tap hole processing of a big diameter that firmly fixes a big installing equipment is also possible.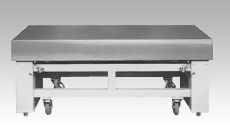 Features
*Please inquire about details.
Product Inquiry
Complete the form below and press the submit button.*We will respond via email as soon as possible.