Desktop steel honeycomb air suspension vibration isolator

AET series

The AET Series is a series of desktop vibration isolators that bring together an entire high-performance vibration isolation system. At Meiritsu Seiki, many of our previous desktop vibration isolators have been combined into a series. As a result, the AET Series, which combines these vibration isolators with steel honeycomb surfaces tables, consists of desktop air suspension vibration isolators are optimal for optical experiments using a small surface area.
Business Fields
For Microscopy
For Measurement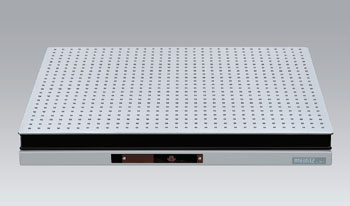 Features
S Type with Automatic Leveler
The S type is equipped with an automatic leveler.This keeps the surface table level even when the load distribution on the spring system is changed. The automatic leveler is constantly connected to an air source of 0.35-0.70Mpa and the air pressure can be reduced with the pressure control valve provided.
Manual Leveling N Type
The N type is provided with a hand pump used for supplying air to the system in order to maintain the surface table level. We recommend this type for use in locations not equipped with an air source.
Clamp-Equipped NC and SC Type
The SC and NC types are equipped with clamps that allow you to fix the surface table in position both quickly and easily.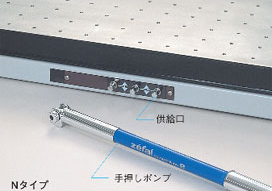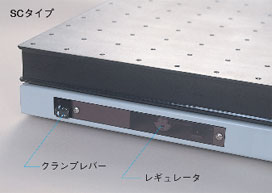 Specifications
S type Specification
H type Specification

SPECIFICATIONS
Model
AET-0405
AET-0506
AET-0605
AET-0806
AET-1007
Natural frequency
2.5-2.7Hz
Vibration isolation method
Special diaphragm air spring
Damping method
Air damping using orifices
Load weight(kg)
60
60
60
60
80
Table dimensions(mm)
430x530x50
530x630x50
630x530x50
800x600x50
1000x750x50
Machine Heights(mm)
115.5
Machine weight(kg)
30
39
39
50
72
Stndard accessories
S-type:Urethane tube 6mmx3m, Pipimg joint(PT1/4 male threads)x1
Model
AET-0405S-H
AET-0506S-H
AET-0605S-H
AET-0806S-H
AET-1007S-H
Natural frequency
2.7±0.3Hz
Vibration isolation method
Same as standard type
Damping method
Load weight
100
200
Table dimensions(mm)
Same as standard type
M6 mounting grid
Machine heights(mm)
Machine weight(kg)
30
50
50
63
82
Standard accesories
Urethane tube Φ6×3m、Piping hoint(PT1/4 male threads)×1
Notice:H-type is S type Only.
Product Inquiry
Complete the form below and press the submit button.*We will respond via email as soon as possible.