Pneumatic vibration isolation system

AP-MKH series

High performance low natural frequency unit type vibration isolator, can be used for equipment having moving mass

The AP-MKH Series is Meiritz's top-of the line series among passive unit type vibration isolators, which features improved isolation performance and various useful functions.
Business Fields
For Measurement
For Semiconductor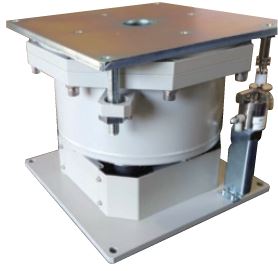 Features
外観図
Specifications
Model
AP-230MKH
AP-270MKH
AP-330MKH
Natural frequency
vertical:1.5~2.0Hz / holizontal:0.7~1.0Hz
Vibration Isolation
method
Air suspension
Damping method
Dumping by Orifice
Leveling Method
Automatic Leveling mecanical air valve
(Positioning Tolerance: ±100μm)
Dimensions
(W×D×H mm)
320×320×325
320x320x325
370×370×325
Mass(kg/unit)
54
64
81
Payload(kg/4units)
6200
8600
13000
AxB(mm)
290x290
290x290
340x340
ΦC(mm)
13
13
13
Suppiled Air Pressure (MPa)
0.5MPa
(Air source:Compressed air by an air compressor,
relieving a factory's piping of its air,or liquid nitrogen gas)
Product Inquiry
Complete the form below and press the submit button.*We will respond via email as soon as possible.