Granite top air suspension vibration isolator

AG series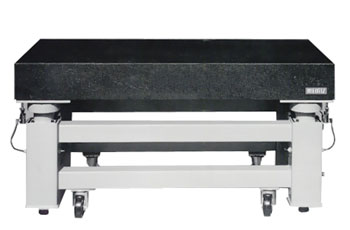 Features
High reliability air suspension system
A lot of experiments and the improvements are done repeatedly over many years, and, as a result, the air spring system with high reliability that leaves results in various fields is adopted.
Granite top with a steady mechanical and physical characteristic.
Granite top is high hardness, steady mechanical and physical characteristic.
General feature of Granite top
High surface accuracy is obtained.
The thermal conductivity is low, and there is little influence by a surrounding temperature change.
There is little influence by humidity
The molecular structure is uniform, and it is excellent in corrosion resistance.
There is little secular distortion.
The influence of magnetism is not exerted.
Granite is hardly worn out because hardness is twice compared with the cast iron.
The elastic coefficient is very high.
Specifications
Model
AG-1007
AG-1209
AG-1510
AG-1809
AG-2010
AG-2412
Natural frequency
Vertical:1.5Hz Horizontal:1.8Hz
Vibration isolation method
Diaphragm air spring
Damping method
Air damping by orifices
Leveling method
Automatic
Table dimensions (mm)
1000x750
1200x900
1500x1000
1800x900
2000x1000
2400x1200
Table thickness (mm)
150
200
250
300
Table material
Granite
Machine height (mm)
800
Machine weight (kg)
500
800
1,050
1,100
1,700
2,800
Load weight (kg)
300 (It is possible to increase or decrease if you need.)
Air supply
0.35-0.70MPa
Product Inquiry
Complete the form below and press the submit button.*We will respond via email as soon as possible.